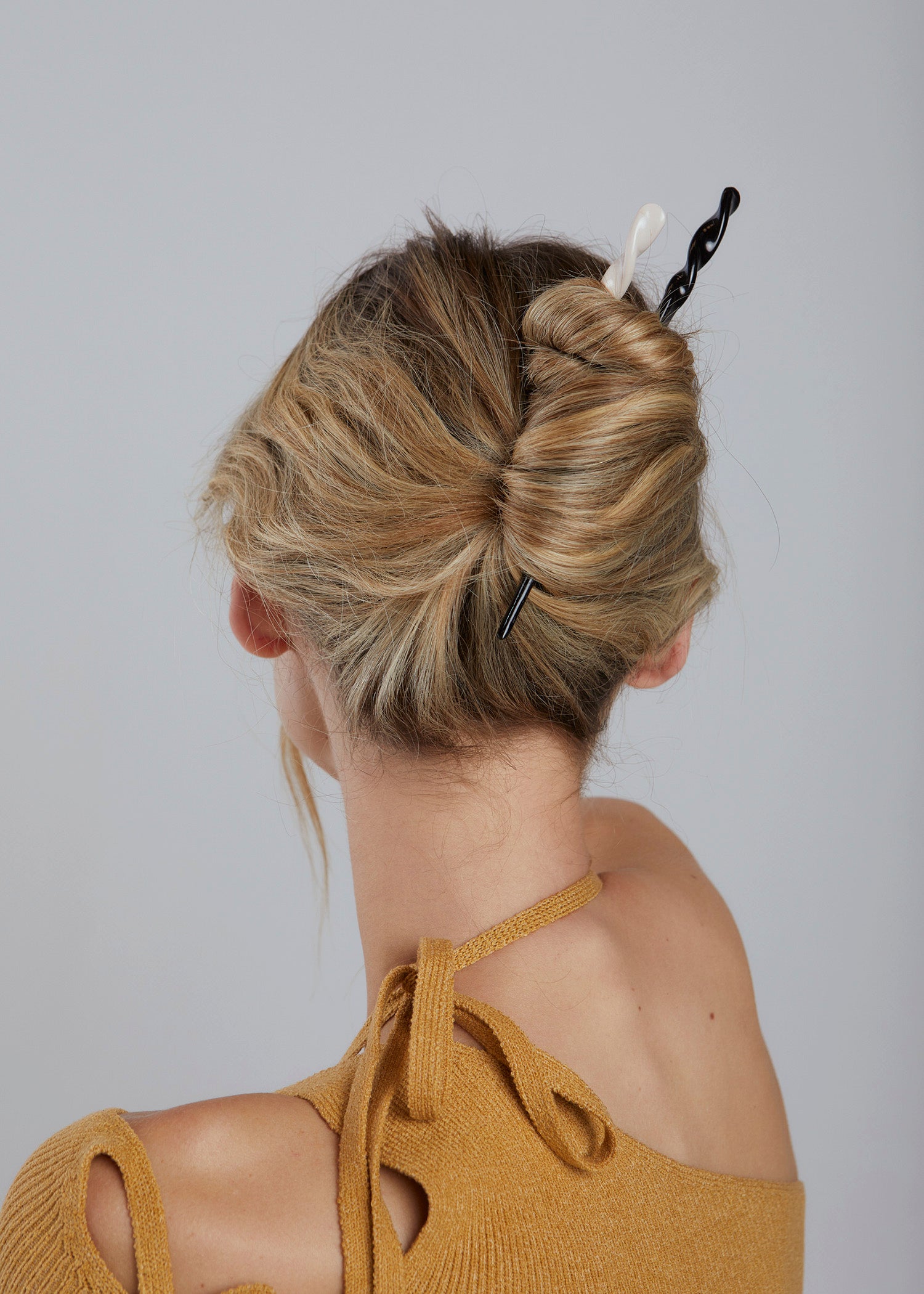 Description
The Hairpin was purposed as a quick, simple, and effortless hairstyle. Made with flexible Cellulose Acetate, the Hairpin is both comfortable and sturdy enough to wear all day without slipping.
Hair Type
Ideal for most hair types; the Hairpin can be wrapped however many times required for differing hair lengths and textures. For those with extra long hair or a dense curl, the Hairpin may be too short to style. Optimal length is mid-back.
Made with Cellulose Acetate
Cellulose Acetate is is a synthetic fibre composed of wood pulp & cotton fibres, making it a more eco-conscious form of plastic (similar to rayon). In the right environment, CA has a heightened biodegradability in comparison to traditional plastics.
We aim to ship all orders in 1-2 business days.
Love it!
For reference, I have thick 2b-2c hair. it is mid length and this can hold my hair as well as my L soul clip and XL daily clip!
SO CUTE!!
I have really long and thick hair, so I was very skeptical. However, this hairpin is absolutely adorable and holds my hair so well! I was able to go a full 8 hour work shift with it in and felt completely secure!! I highly recommend!
LOVE
I absolutely LOVED this so so so much!!! buttttt… I lost it… I'm devastated
I really wanted to like this…
It just does not stay put. I have thick fairly wavy fairly long hair and try as I might, this pin does not stay put like other pins I own.
OBSESSED
I am shook at how well this hairpin works!! I have longer thick hair (I use the Mega clip) and this pin WORKS at holding it up. I just used the Kov video above as a tutorial and it has been holding my hair super snug. I like that the material is a little bendy which helps maneuver the pin a little more easily while still making it sturdy. I'm obsessed!